Our baby, Oliver, has just turned 10 months today!! It brings such joy and has breathed a new-found respect for Chinese Medicine and all that it has to offer.
Like all parents I want to make sure he is healthy, happy, and safe. He just cut his 3rd tooth and boy, oh boy was it looking rough for a minute. But my skills as an herbalist were able to bring him some much-needed quick lasting relief. What I used: Blue Poppy's Tender Teeth as well as a clean washcloth soaked in a homemade tea of nettles, chamomile, and saffron which he sucked on. The nettles are anti-inflammatory, chamomile cooling and soothing, and saffron (or hong hua safflower if you have it) moves blood and pain. Within minutes screaming stopped! Yay!!
I also massage him every night before bed, just to keep all his blood and energy flowing. Many times when treating babies we as Chinese Medicine Practitioners use something called Tuina, which is really another term for medical massage. The techniques are very safe, gentle and effective and have been used for centuries. The movements are repetitive, so using a little baby powder or olive/almond/jojoba oil is recommended.
This book is quite helpful and I think for a few bucks every household should have it: Chinese Pediatric Massage Therapy: A Parent's and Practitioner's Guide to the Treatment and Prevention of Childhood Disease. Cupping is another alternative for older children and adults and is used in many European and Asian households a the go-to for pain and cough relief (to be discussed another time).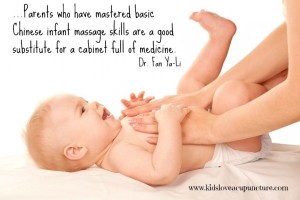 How to do Tuina (massage):
-For babies under 2 years of age, use 100-200 repetitions.
-For children ages 2-5 years, use 200-300 repetitions.
-For children ages 6-12 years, use 400-500 repetitions.
The easy way, instead of counting, is to time your technique from 1 to 3 minutes according to the ages above, or based on the severity of the condition, using more repetitions for more stubborn conditions. Similarly, these techniques can be done 1 to 3 times per day.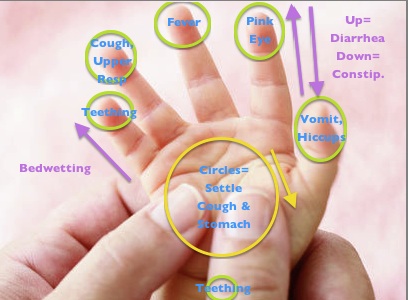 In the picture above:
In the green circles, we are kneading the child's finger or thumb between our own thumb and forefinger. This is called the "kneading" technique.
For the yellow circle, we are using just one of our thumbs to make circles in the direction indicated.
For the purple arrows, we are using our index finger to trace the sides of our child's finger in the direction and location indicated.
The "pink eye finger" can also be used to treat irritability. There are also herbs that can prevent pink eye from spreading and clear it up very quickly. Go to your local Chinese Medicine Practitioner and get them right away.
For the "vomit/hiccups thumb," you can begin kneading the joint closer to the hand, and move up the pad, for more therapeutic effect.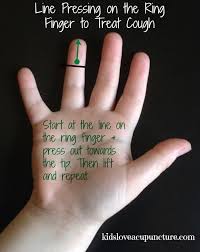 For the "cough/upper respiratory finger," you can also include the second joint (from the tip), and then move up to the finger pad, kneading along the way. I have also used this technique on adults with great success, so if you're having a coughing fit at a board meeting give it a try! Herbs are very helpful, safe, and effective. I especially like these formulas: Kan Herbs Gentle Warriors Windbreaker and Blue Poppy Pediatrics Lung Qi or Moisten Dryness. If baby is coughing and has a runny nose you can also make your own healing congee soup for them. Take 1 part rice to 6 parts water, simmer rice for at least 2 hours. Give baby the water that's been cooking. A few teaspoons was all Oliver needed at about 6 months of age, so adjust for their weight. It was a miraculous save on a family vacation!
Original post of instructions.
Ps- I have no financial ties to any companies – they just work well.