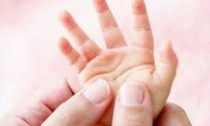 Our baby, Oliver, has just turned 10 months today!! It brings such joy and has breathed a new-found respect for Chinese Medicine and all that it has to offer.
Like all parents I want to make sure he is healthy, happy, and safe. He just cut his 3rd tooth and boy, oh boy was it looking rough for a minute. But my skills as an herbalist were able to bring him some much-needed quick lasting relief. What I used: Blue Poppy's Tender Teeth as well as a clean washcloth soaked in a homemade tea of nettles, chamomile, and saffron which he sucked on. The nettles are anti-inflammatory, chamomile cooling and soothing, and saffron (or hong hua safflower if you have it) moves blood and pain. Within minutes screaming stopped! Yay!!
I also massage him every night before bed, just to keep all his blood and...
Read More