Here's an update on what's happening here in May and June.
Thursday, May 12 6-9pm. What drives our decisions – love or fear? I am co-teaching a class with Grief Counselor, Georgena Eggleston, and Life Coach, Kerstin McInnis.
Experiential workshop using grief therapy and healing touch through Rubenfeld Synergy work; Acupuncture, energy work, and Qi Gong; and, live coaching and personal growth exercises. You'll gain awareness of your body and where emotions get stored so you can clear them out, learn how to clarify your values, and create boundaries to keep yourself sane and healthy.  You'll leave empowered, happier, and healthier. Acupuncture session included.
More info and sign up here.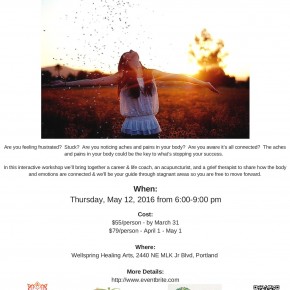 Saturday, June 18 12:30-2:30. Summer session Yoga and Acu Workshop. Led by Ginny Kauffman and myself.
Sign up soon. We had a wait-list for the last class!
This class will have a strong focus on the heart and areas surrounding it. Upper back bends and other poses will stimulate and create space around the heart, lungs, and diaphragm, open the heart chakra, creating joy and happiness and deepening the capacity to love ourselves and others. This is a great session for those with emotional stresses (grief/ heartbreak), back or shoulder pain, asthma, a tendency to overheat, and any vein or cholesterol issues. Some summer-focused food and drink will be provided at end of session.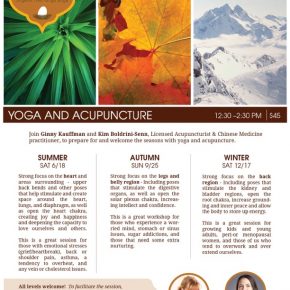 Clinic adjustments: I will be taking a quick trip to NY for Mother's Day. Clinic will be closed Thurs 5/5 – Thurs 5/12, resuming 5/17. If you need any herbal refills please let me know by Wed morning. I will be co-teaching a class on Thursday, May 12 6-9 so if you need some TLC come by! Acupuncture session at the end and everything we talk about will likely be pertinent to your healing. Happy Mother's Day to all of you and your moms!
New clinic treatment available: "Try Acupuncture!" 30 minutes private new client session for $20: Created for all your friends and family members who have never tried acu and wonder if it's painful and how it can help.
Here's what patients are saying: "Great acupuncture session yesterday. Even 30 minutes was enough to keep me pretty relaxed the rest of the day. One of the best nights sleep during a weeknight I've had in a while!!!"