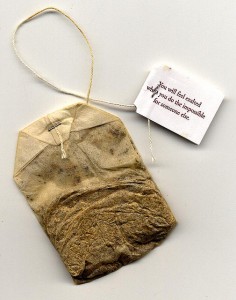 Inspiring quotes from my morning Yogi Tea:
Appreciate yourself and honor your soul.
A relaxed mind is a creative mind.
By honoring your words, you are honored in this world.
Delight the world with compassion, kindness and grace.
Gratitude is the open door to abundance.
Know whatever you are doing is the most beautiful thing.
Love is where compassion prevails and kindness rules.
Make yourself so happy that when others look at you
they become happy too.
Say it straight, simple, and with a smile.
Share your strengths, not your weaknesses.
The purpose of life is to enjoy every moment.
To learn, read. To know, write. To master, teach.
The body is a temple: take care of it.
The beauty of life is to experience yourself.
You are remembered for your goodness.
You will feel exalted when you do the impossible for someone else.