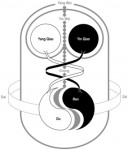 The Eight Spiritual (Extraordinary) Meridians
are meridians that flow deep within the body, act as reservoirs of qi and blood for the main meridians (filling and emptying as needed), circulate jing around the body, circulate defensive Wei Qi to increase immunity, and provide a connection between the 12 main meridians. The eight extraordinary meridians help with deep illness (physical, mental, or emotional). They are used to deal with issues of ancestral ties, fertility, life purpose, chronic illness, asthma, digestion, and much more. I find them extremely useful in clinical applications and use them on almost every patient I treat.
Ren: Conception Vessel:
Coupling pair: Lieque (Lu 7) and Zhaohai (Ki 6).
The Ren receives and transports the qi of all the yin meridians, and therefore regula...
Read More