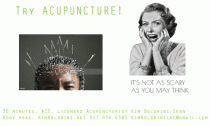 Here's an update on what's happening here in May and June.
Thursday, May 12 6-9pm. What drives our decisions – love or fear? I am co-teaching a class with Grief Counselor, Georgena Eggleston, and Life Coach, Kerstin McInnis.
Experiential workshop using grief therapy and healing touch through Rubenfeld Synergy work; Acupuncture, energy work, and Qi Gong; and, live coaching and personal growth exercises. You'll gain awareness of your body and where emotions get stored so you can clear them out, learn how to clarify your values, and create boundaries to keep yourself sane and healthy.  You'll leave empowered, happier, and healthier. Acupuncture session included.
More info and sign up here.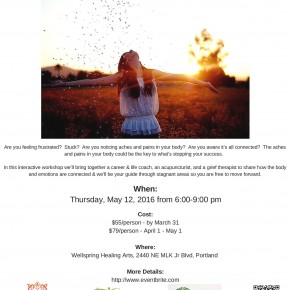 Saturday, June 18 12:30-2:30. Summer session Yoga and Acu Workshop...
Read More